Anumantha Kanthasamy, PhD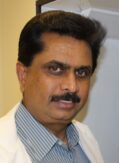 Anumantha Kanthasamy, PhD
email: anumantha.kanthasamy@uga.edu
phone:
Title(s)
John H. "Johnny" Isakson Chair and Georgia Research Alliance Eminent Scholar in Parkinson's Research, Department of Physiology and Pharmacology, University of Georgia, College of Veterinary Medicine
Office
501 D.W. Brooks Drive
Athens, GA 30602-5023
Information
Education
Postdoctoral training: Medicinal Chemistry & Molecular Pharmacology
(formerly Pharmacology & Toxicology), 1994,
Purdue University, West Lafayette, Indiana
Ph.D., Biochemistry, 1989, University of Madras, India.
M.Phil., Biochemistry, 1986, University of Madras, India
M.S., Biochemistry, 1984, University of Madras, India
Research interest: Dr. Kanthasamy's research on the cellular and molecular mechanisms of Parkinson's disease and other neurodegenerative disorders has established him as a leading neuroscientist and has brought international distinction to Iowa State University. His studies focus on environmental, chemically induced neurodegenerative processes capable of producing Parkinson's disease, and the development of novel therapeutic agents to treat neurodegenerative diseases. He has made several fundamental advances in signal transduction mechanisms associated with cell death processes in Parkinson's disease. Dr. Kanthasamy has applied contributions that have resulted in two patents and the establishment of a new business in the ISU Research Park to promote translational drug discovery research.