Inna Ovsyannikova, PhD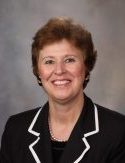 Inna Ovsyannikova, PhD
email: ovsyannikova.inna@mayo.edu
phone: 507-284-0856
Title(s)
Director of Laboratory Studies, Vaccine Research Group; Professor of Medicine, Department of Internal Medicine, Mayo Clinic
Office
Mayo Clinic
200 First Street SW
Rochester, MN 55905
Information
Education
M.S. Khetagurov North Ossetian State University, Vladikavkaz, Russia
Ph.D. Mechnikov Research Institute for Vaccines and Sera, Moscow, Russia
Research interest: Inna G. Ovsyannikova, Ph.D., studies the genetics of innate and adaptive immune responses to viral and bacterial vaccines. Her interests include vaccine-preventable infectious diseases, particularly the application of mass spectrometry to develop peptide-based vaccines against smallpox, measles, influenza and agents of bioterrorism. Additional research examines gene polymorphisms and predictors of vaccine immune response, viral antigen processing and HLA presentation, and new high-dimensional vaccine studies (transcriptomics, proteomics and others).
Focus areas
Immunogenetic mechanisms underlying the immune response variations to pathogens, including measles, mumps, rubella, influenza, vaccinia and anthrax
Vaccine nonresponse at various levels of host-pathogen interaction, such as gene polymorphisms (genome-wide association studies and candidate immune response genes, including HLA genes) and immune response levels (innate, humoral and cellular)
Antigen processing and presentation and the application of mass spectrometry for developing peptide-based vaccines for measles, smallpox, influenza and agents of bioterrorism
High-dimensional studies utilizing platforms such as gene expression microarrays, DNA methylation arrays and next-generation sequencing (mRNA sequencing)
Significance to patient care
The goal of these studies is to use vaccinomics to support future vaccine development. This research provides novel scientific approaches and solutions to vaccine nonresponse, develops a basis for new vaccines designed to overcome genetic restrictions, and gives insights into the functional mechanisms of immunity induced by vaccines.