Satyayanarayana Rachagani, PhD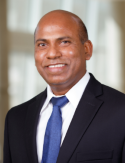 Satyayanarayana Rachagani, PhD
email: srg7w@missouri.edu
phone:
Title(s)
Assistant Professor, NextGen Precision Health, University of Missouri
Office
Roy Blunt NextGen Precision Health Building
University of Missouri
1030 Hitt Street
Columbia, MO 65211-2104
Information
Education
Ph.D., National Dairy Research Institute, India, 2006
M.V.Sc., Tamilnadu Veterinary and Animal Sciences University
B.V.Sc (DVM)., Acharya NG Ranga Agricultural University
Research interest: Identification of miRNA signature for diagnosis and prognosis of pancreatic cancer, Genetically engineered mouse models with/without mucins to study pancreatic and colorectal cancer pathogenesis, Chemoprevention and novel combination therapies for pancreatic and colorectal cancer.
My lab is focused on studying pathogenesis and targeting strategies for pancreatic and colorectal cancers through miRNA, natural agents and other novel combination therapies using human and mouse derived cell lines and GEM models. We observed that several microRNAs (miRNAs) are differentially expressed in mouse pancreatic cancer (PC) using a KC mouse model. Further, expression of miR-216/217, miR-96, miR-345 and let-7b were significantly down-regulated during the progression of mouse PC from 10 weeks to 50 weeks of age. Specifically, restoration of miR-345 in PC cells resulted in inhibition of PC cell growth, motility, invasion in vitro and tumor growth and metastasis in vivo. In addition, re-introduction of miR-345 in PC cells resulted in down-regulation of SHH, Kras, MUC4, and their downstream signaling pathways. We continue working on this miR-345 to simultaneously target Stroma and to downregulate Kras, and on MUC4-mediated signaling to counter the barrier imposed by tumor stroma (desmoplasia) for improved delivery of chemotherapy. Chemotherapeutic agents commonly used for PC treatment are not effective in inhibiting PC progression and metastasis due to an extensive dense stromal reaction (i.e. desmoplasia) that hinders the drug from reaching the tumor cells. Shh-signaling drives the desmoplasia and metastasis, but deletion of SHH alone in mouse PC resulted in aggressive tumors with reduced stroma and increased proliferation and vascularity. Further, in collaboration with University of Iowa, we developed an innovative nanotechnology with a multifunctional nano-carrier formulation of combined delivery of miR-345 with the clinically approved drug GEM. Additionally, our lab research also focused on the role of mucins in cancer pathogenesis and their targeting strategies using cell lines, organoids and genetically engineered mouse models.
website