Vellareddy Anantharam, PhD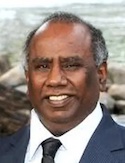 Chief Scientific Officer and Chief Operating Officer
PK Biosciences Corp.
1907 ISU, C. Drive
Ames, IA 50011-3108
Dr. Vellareddy Anantharam has over 30 years of research experience in molecular neurobiology, pharmacology and toxicology in both the academic and corporate sectors. He has more than 180 published research papers to his credit. As a pharmacology faculty at the Univ. of Massachusetts Medical Center (1990-95) his major focus here was to study the effect of ethanol and local anesthetics on Neuronal ligand-gated and ion-gated channels. Subsequently, he joined the research team headed by Dr. Alan J Tobin, Director of Brain Research Institute, UCLA (1995-97). His team focused on engineering immortalized neuronal cell lines to express GAD65 and produce GABA for transplantation experiments in animal models of Epilepsy, Parkinson's and Huntington disease.
In his position as a senior scientist (1997-99), Dr. Anantharam was instrumental in developing high-throughput pharmacological screening and cellular response measuring instruments at Axiom Biotechnologies Inc. (merged with Sequenom Inc.). In 1999 he won the employee of the year award. Since, 2000, he is an affiliate Associate Professor in the Department of Biomedical Sciences in the College of Veterinary Medicine, Iowa State University. At ISU, Dr. Anantharam's research focuses on areas of neurodegenerative diseases and neurotoxicology. In 2006, he co-founded PK Bio. In 2008, he received NIH SBIR phase I funding for development of Novel Therapeutic Agents for Parkinson's' disease. In 2008, he also received the Iowa Technological Commercialization Fellowship Award. In 2009 he also received funding from Grow Iowa Value Fund and Institute for Physical Research and Technology from the State of Iowa for syntheses and screening of novel drugs for PD. He was recently awarded two NIH/NINDS SBIR P1 grants in Fall 2018 and Spring 2019.
Dr. Anantharam began his post doctoral training at Johns Hopkins Medical School in the laboratory of Professor Pete C Maloney. He received Doctoral degrees in Molecular Biophysics from Indian Institute of Science, Bangalore.